Announcing DOTVVM Community Meetup
|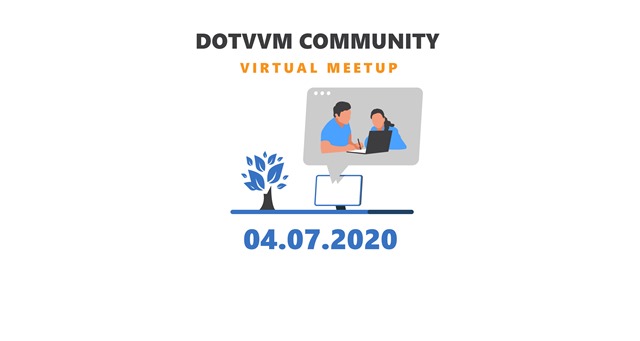 This past couple of months, with lockdown protocols rolling out the world over, our lives and work have turned upside down. How are you coping with the changes? What do you foresee happening six months down the line? With many of us still working remotely, we want to continue to keep you connected with the DotVVM community. So, we are excited to announce the DotVVM Community meetup which will be happening virtually.
DotVVM Community online events are hosted by DotVVM Ambassadors and supported by the DotVVM team. Our focus is to serve you and your needs. Share topics/issues that you'd want us to put together virtual events for. With online events, the constraints of geography no longer exist.
Join DotVVM author Tomáš as he introduces DotVVM, Webforms, and web modernization. It's also a great opportunity for you to get all of your questions answered by Tomáš. With this, we look forward to engaging with you on a more regular basis.
We are also keen on anchoring our community via our social media channels. Please tune in to our feeds, and let us know what you think of DotVVM. Hope to see you there, but if you can't make it, register anyway and we'll send you the recording.
About Speaker
Tomáš Herceg is Founder and CEO of RIGANTI, RIGANTI is based out of the Czech Republic and is focused on custom software development, consulting, and solution architecture services. Tomáš is the creator of DotVVM, an open-source framework that simplifies creating a line of business web applications and makes it easier for any .NET developer. Tomáš was awarded Microsoft Most Valuable Professional and Microsoft Regional Director for his influence in technical communities, public speaking, and publishing technical articles.
Who should join:
Are you a developer or looking to join the developer community? Are you looking for like-minded, driven web developers to network and learn together? If you like DotVVM or just simply hanging out with interesting people, this is the platform for you. Everyone is welcome to attend.
Please note this meetup is community driven and Free of cost.
Time and Date: 16:00 UTC, July 4, Saturday.
Virtual Location: TBA
Agenda:
Welcome note
Talk by Tomáš
Q&A session
Open Mic session